For 13 years, we've partnered with Elves & More of Northeast Ohio, a non-profit that builds bicycles for children in need in the Akron area, about 45 minutes south of Cleveland. The relationship began back in 2005, when a driver and his childhood best friend shared a fateful phone call, and a dream to do right for their community.
They come by the hundreds. Every year, volunteers swarm a different warehouse, somewhere in northeast Ohio. Adults and children alike – families and strangers – gather together to build children's bicycles.
This year they met on December 15 in Twinsburg, about 30 minutes southeast of downtown Cleveland. A week later, on the Saturday before Christmas, the fruits of their labor were delivered to two surprised neighborhoods in need, selected in secret with the help of local police.
XPO trucks fanned out to approach the neighborhoods from different angles. Drivers in Santa hats merrily honked their horns while backing trailers into place. Families flooded the streets. Every kid got to take home one of 800 brand-new bikes that volunteers had assembled to give away.
This is the mission of Elves & More. For 13 years, XPO has been a proud partner to their annual endeavor, ever since Elves & More co-founder Tim House hopped on the phone with his childhood best friend, Joe Caliri, an XPO driver.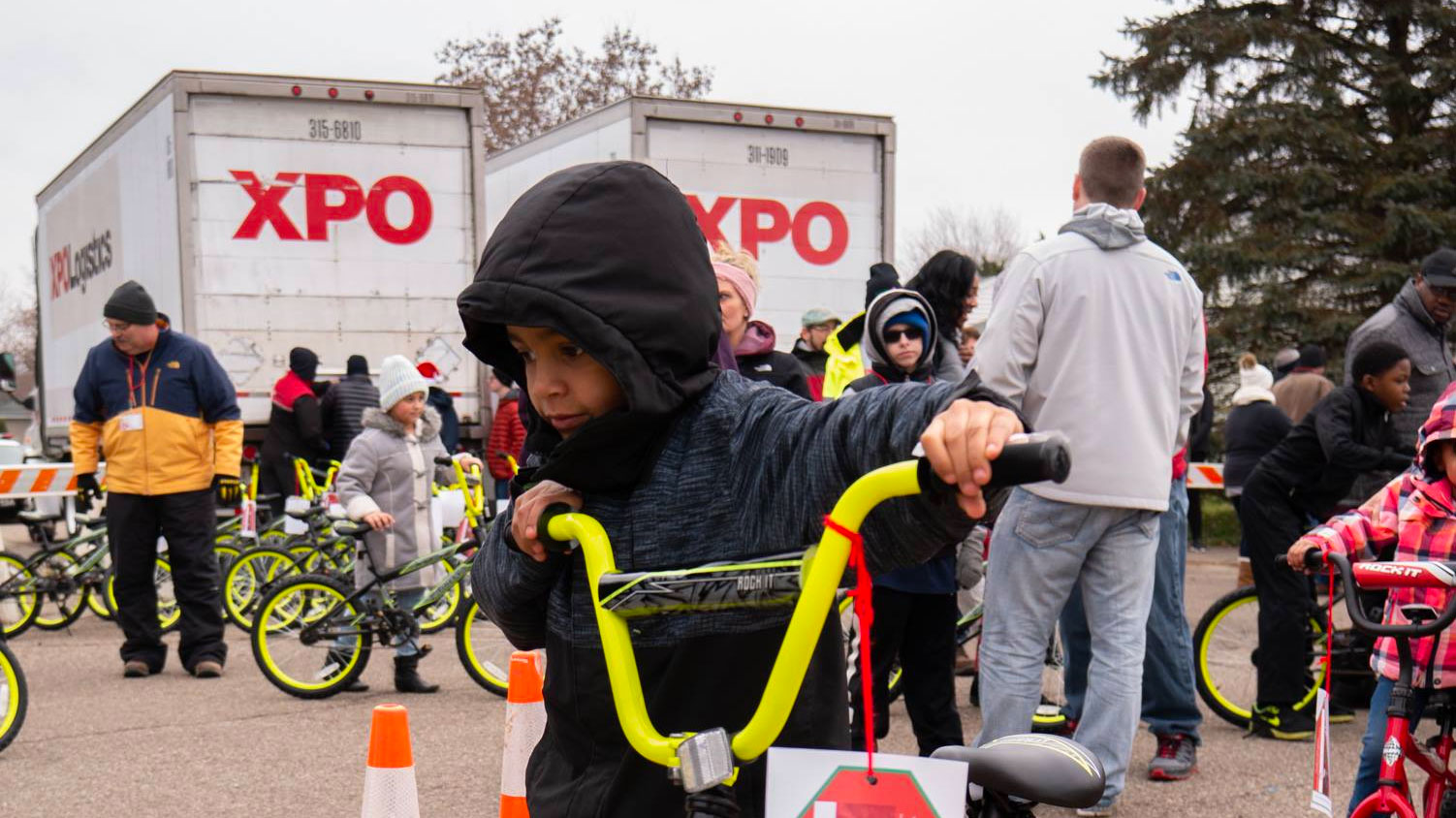 "That happens in every city."
Tim House is a joyful man. Tall and broad with a radiant smile, he's the operations manager for an overhead crane company. "I work with XPO Logistics every day!" he laughs. But his relationship with XPO runs deeper, thanks to Joe. "He and I have been friends since sixth grade – so basically forever."
In August 2005, Tim saw a news story about a man named David Moore and his non-profit, Elves & More, dedicated to donating bikes to children in the Houston, Texas area. Moore related a story about one of his deliveries, where he noticed a trio of boys standing together, holding – but not riding – their new bikes. "If you're not interested in bikes," Moore told the boys, "I have some basketballs and footballs in the truck."
One of the boys replied: "Sir, we like bikes! But we've never had a Christmas present before, and we're going to wait until Christmas to ride them."
Tim House just stared at his TV screen, thinking, "That's not unique to Houston. That happens in every city." Across town, Joe Caliri was thinking the same thing.
Piggybacking
Wanting to do for his hometown of Akron what Moore had done for Houston, Tim reached out via an online contact form, and got a call back the very next day. He and Moore worked out a plan where Tim would piggyback on the Elves & More brand and non-profit status for one year.
It was enough time to get the legal technicalities of an Ohio-based charity taken care of, while still allowing for a bicycle delivery that Christmas, just four months away. Moore even diverted one of his shipping containers full of bicycles to Ohio, a one-time donation for the upstart charity.
Meanwhile, the news story about David Moore had been on Joe Caliri's mind all week. He called Tim on the phone. "Tim, did you know there's a guy in Houston giving away bikes to kids every year?"
"Joe," Tim replied, "did you know there's a guy in Ohio trying to do the same thing?" After laughing through the coincidence, Joe – a consummate trucker – asked the obvious logistical question: "How are you planning to deliver all those bikes?"
Tim didn't have an answer, but Joe did. He worked for a trucking company. He could talk to his manager and make something happen.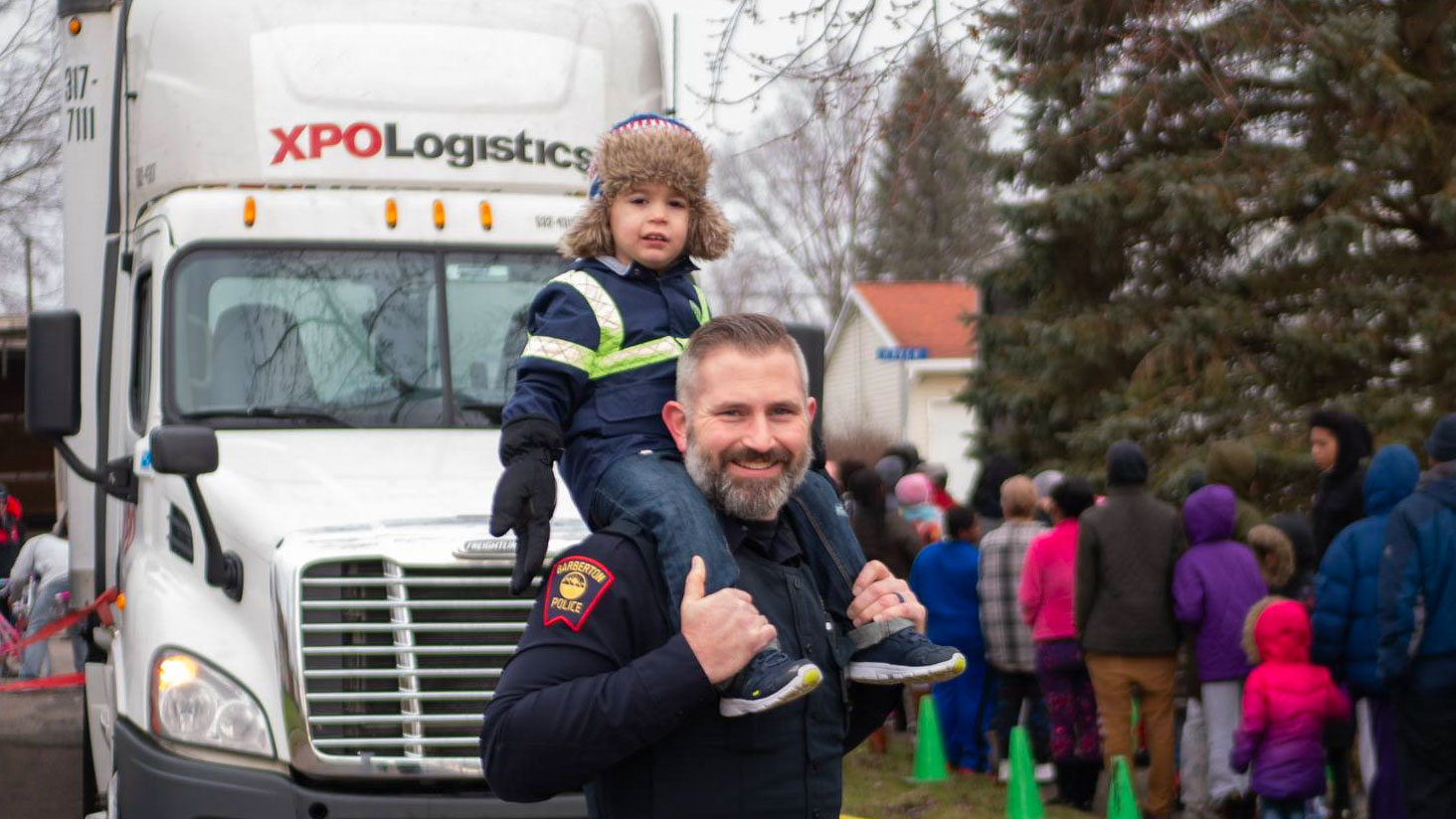 96 Cents
It's been 13 years since that fateful phone call. Today, XPO transports unassembled bikes from ports on either coast to the Elves & More build site, then loads up trailers with the completed bicycles for final delivery. Our local team members flock to the build itself, eager to participate in what has become an annual tradition.
Last week, XPO Logistics and Elves & More of Northeast Ohio delivered those 800 bikes in time for Christmas. The number fluctuates from year to year as global shipping prices change and grant money goes up and down, but Tim and his co-founder, Brian Miner, always buy as many as they can.
"96 cents out of every dollar goes toward the bikes," Tim explains. "That's what's unique about our organization. Our board of directors is all volunteer staff. We rarely build in the same warehouse twice – we just look for available space that someone's willing to let us use. We don't have an office, just a P.O. box, so there's no overhead." Even their website is donated, hosted for free by a local design firm.
There's no shortage of volunteers, either; Elves & More had to close their volunteer signups after just a few hours this year. It pains Tim to have to turn people away, but he sees the upside: "We've built an organization that everyone wants to be part of."
Nevertheless, he doesn't want to turn people away again. "Next year's going to be huge. If we can poise ourselves properly – and with some of the open grants we have coming in the first quarter, we probably can – we're going for 2,100 bikes. We're not going to turn volunteers away. Year 14, we're going to knock it out of the park."
Photos courtesy of Elves & More of Northeast Ohio. Follow Elves & More on Facebook.